OUR COFFEE
El Gato Feo Café's coffee is Arabica, organic, single origin, grown by a multigenerational coffee family in the mountains of Compostela, Nayarit, Mexico. Dark roast at El Gato Feo Cafe + Roastery in Ajijic, Jalisco, Mexico.
ALL ONLINE COFFEE PURCHASES HAVE A 20% DISCOUNT UNTIL DECEMBER 31, 2021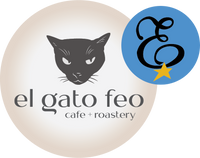 VISIT US!
We are located in Ajijic, Jalisco. Next to the Lake Chapala Society in Downtown Ajijic. El Gato Feo Cafe + Roastery is a subset of Estrellita's Bed + Breakfast. We roast our coffee on the property and have many other items in store (including our Grab + Go food selection).
Come in, have a coffee and say hello! We would love to see you!

Free Wi-Fi.
HOURS:
Open every day
9am - 3pm

HOLIDAY HOURS:
HOLIDAY HOURS:
Closed on December 25th
Open on January 1st

Closed on December 25th
Open January 1st

WhatsApp: +52 (376) 766-0917
p >
THE UGLY COFFEE CAT
Attached to Estrellita's Bed and Breakfast
September 16, # 18
Ajijic, Jalisco, MX

Email:
info @ elgatofeocafe .com